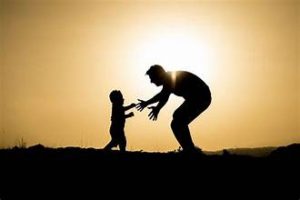 I was in prison, got acquitted in court, and now I'm safely home!! For me this statement reflects the greatest teaching of the Bible, justification by faith!
At the heart of the Simple Gospel is the glorious work of salvation through faith in the completed work of Christ that leaves one "justified" or made right before a Holy Father God.
Listen to Paul's heart warming words as states this in Romans 5:1-2:
"Therefore, since we have been justified through faith, we have peace with God through our Lord Jesus Christ, through whom we have gained access by faith into this grace in which we now stand. And we rejoice in the hope of the glory of God."
 To understand these victorious truths of being "justified" go back to the opening statement of this blog.
I was in prison – Last week I shared about the gift of the Holy Spirit that reveals "all have sinned and fallen short of the glory of God," Rom. 3:23. The religious and the rebellious are all guilty and imprisoned by their sin nature. Nothing we can do can earn our salvation.
But while we were in imprisoned by our sin and under God's righteous judgment Jesus walks into our prison cell and takes our place. All my past, present, and future sin placed on Christ. He received my waiting execution and God's wrath as He hung and died on the cursed cross.
Got acquitted in Court – I'm led from my prison cell into the Heavenly Court of God. Satan is yelling out damning accusations. BUT the resurrected Christ runs into the court and shows the Father His wounds to defend His chosen sons and daughters. And the Father proclaims "Free, yes they are free indeed by the finished work of My Son. His perfect life, death, resurrection, reign belong completely to them by grace. Therefore there is no condemnation they are free to walk out of the court room of judgment, never to return!" (Roman 8:1).
I'm safely Home – The goal of the Gospel is to bring us back home, to dwell both now and forever in the presence of our Father. Our hearts true home is fellowship in the shalom of the Father's forever love for us (see Jn. 17:3). Those who know these truths of Justification by faith find themselves overflowing with joy. They know it is ALL a gift of God. Even their faith in Christ and His completed work is a gift given by the Holy Spirit (Eph. 2:8-9).
Yes, the struggle is real as history records again and again we walk away from this message only to find ourselves back in prison, back in the court of condemnation, back trying to earn our salvation.
Yet through the power of the Holy Spirit we are brought back to this Simple Gospel message and given boldness to live it each and everyday. In world full of bad news we have the greatest news ever, the Simple Gospel.
Our families, our communities, our country and our world need to see followers of Christ who live in the home of the Father's love. To see followers who are overcome by the joy of their salvation that was given to them freely through faith in Christ, the gift of the Father. May you claim your rightful home in the Father's loving arms!
https://oceansministries.org/wp-content/uploads/2019/07/oceans-logo-horizontal-340x156.png
0
0
Tim Spykstra
https://oceansministries.org/wp-content/uploads/2019/07/oceans-logo-horizontal-340x156.png
Tim Spykstra
2023-09-05 04:00:29
2023-09-04 03:55:09
The Simple Gospel – Safe at Home